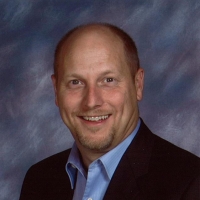 Tommy Richardson
Senior Pastor
When did you come to Immanuel?
My family came to Immanuel in February of 2012
Where are you originally from?
My family lived in many different parts of Texas as I grew up. I graduated from Sulphur Springs High School and count that as my hometown.
Your family:
Becky is my beautiful wife. We met at Angelo State University and soon married. Stephen is our oldest son and married to Lindsi. They have two children, Audri and Joshua. Our daughter Shelbe is married to her college sweetheart, Connor. Spencer is our youngest son and married to Naomi. They have one child, Paislee. Savannah is our youngest daughter and lives at home with us, for a little longer we hope!
Hobbies:
I enjoy golf so much that I play at least 3 times a year!
Where did you attend college?
Angelo State University
Favorite Actor:
The Hulk
Short Testimony of Salvation:
I was raised in your typical middle-class household. We didn't attend church regularly, but I was acquainted with Bible stories and general truths of God. When I was 18 years old, a group of men interrupted my basketball game to explain God's love for me and His life-changing plan through Jesus. I realized that I needed the forgiveness that only Jesus, the Son of God could offer. I also came to understand that Jesus desired a personal relationship with me! That day I received Jesus as my personal Savior and Lord.
My life has been quite a journey since then. I did not understand that becoming a Christian was only the beginning of what the Lord had in store. A wonderful Christian lady came into my life a few years later. Becky and I were married and soon directing and teaching a Bible study class. As a lay person, I was invited to preach for the first time. I was ordained as a deacon at the age of 25. I began to feel a call to ministry but was not released to accept the call for some years. When I was 31, I left my retail career of 10 years and accepted a call to be a Singles minister at my home church. I was soon ordained and my ministry led me from Texas, to Virginia, Georgia, and back to Texas.
God has allowed me to work with some wonderful people. I have been a part of seeing many people come to know Jesus as their personal Savior and Lord. I thank my God for allowing me to be a part of His plan. My heart is full of anticipation for each new step in my spiritual journey.
Contact Info
Email: pastortommy@ibcfam.org
Phone:  325-653-3361